First of all, I'd like to enlighten you with a short explanation as to why the Chat Noir is a super cool place. You may recognise the iconic art nouveau graphic depicting a swirly cat – this is the gorgeous promotional image for the establishment.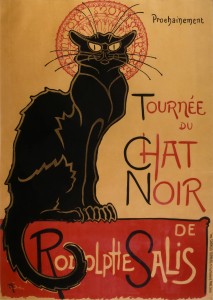 Its namesake (*now sadly long departed) was a fabulous hub for 19th century Parisian bohemia, a meeting place for artists, poets, intellectuals and other such ratbags. They held some of the first modern cabarets, Parisian salons, and surprisingly, were famed for their shadow puppetry shows. These became extremely popular and received rave reviews across the city, eventually prompting a national tour.
Though the location & management have changed, Au Chat Noir continues the tradition of hosting as a hub of interesting art, music and writing.
So now you can understand how excited I was to be asked by Paris Spoken Word to be feature artist there.
The sandstone basement venue is warm and cozy, fairylit with the audience up close and personal on rustic benches. I was delighted to get a great response from the full house who laughed, groaned and applauded along with me for my set. The night itself is a pot luck mix of French and English speaking performers, with a handsome and hilarious Italian, Alberto, as your master of ceremonies. On this occasion we were treated to an account of hearing for the first time via cochlear implant, unrequited love and a luscious tribute to Paris.
We also heard from Yann Icus, a captivating poet who deals with the intersection between the geeky and erotic. He's just released a beautiful illustrated book of poems called the Dawn of the Algorithm, which you can find here. Or sample the audio recordings here to get a feel for the textures and turns. I really loved his work, perhaps you will too.
The long running weekly night is a fun and quirky piece of Parisian culture for you to experience on your next visit to the city of lights.
What a wonderful night! See for yourself: